Photo: (top: 2004 / 145lbs) (bottom: 2011 / 120lbs)
The Map….
I decided to call this page the map… When walking (or running) down the road to a healthier lifestyle, it is important to map every step of your journey… The more that you procrastinate, or leave to the unknown (regarding food at least)… The more difficult it is to know what you are consuming!
For example… If you wake up and decide to hit the McDonalds drive through for convenience, you may be early to the office, but you are already half way through the recommended calorie intake for your day. Taking just 5-10 minutes to plan ahead (the night before, if you're a zombie in the morning like me) can eliminate poor food choices…Does this make sense?
Fruits and Vegetables are an EXCELLENT source of daily vitamins and fibers… (Especially high in fiber are raw, green veggies). Believe it or not, most of your daily carbs/calories should come from this food group…The best part? They are loaded with natural, healthy sugars and fibers will keep you feeling full longer!
Always consider fat free/sugar free as an option. Without knowing, you will cut out hundreds of unnecessary fats and sugars! (Your morning latte? Go sugar free with the syrup, and skim or soy with the milk, hold the whip next time!) It really doesn't taste much different at all!
Protein… IF you eat meat, white meats are generally leaner, and lower in fats and greases. While red meats are full of zinc and vitamins b6 and b12. Low carb diets should steer away from red meat all together… Sorry folks! There are plenty of other options to explore!
Reduce Sodium in your diet! Reducing sodium will reduce bloating… The CDC recommends no more than 1500mg of sodium per day for a median age healthy male or female, though mind you this is based on a very high caloric diet… To maintain weight and bloating, I would stay under 800mg… ish!                 
If you are honest about trying to slim down… Cut out all full fat dairy products.. i.e. whole milk, full fat cheeses… There are PLENTY of leaner, healthier options in the market of skim, almond, hemp, rice, and soy milks, and reduced fat, soy or veggie based cheeses. (Believe me, the veggie cheese IS STELLAR…Even my carnivorous boyfriend approved)
Be mindful of your liquids!!! They say that our bodies can be up to 70% water, so hydration is very important to hold balance… Now, keep in mind that it is just as easy to drink your calories as it is to eat them…. True story, I LOVE "Simply Lemonade" and for the longest time I felt I was being "healthy" by choosing that over diet coke… BOY was I ever wrong! check out the sugar and calories in one serving…(per the coca-cola product website…

Nutrition Facts

Serving Size

1 bottle

Servings Per Container

1

Amount Per Serving

Calories

190

% Daily Value*

Total Fat

0g

0%

Sodium

25mg

1%

Total Carbohydrate

50g

17%

Sugars

47g

Protein

0g

Not a significant source of calories from fat, saturated fat, trans fat, cholesterol, dietary fiber, vitamin A, vitamin C, calcium and iron.

*Percent Daily Values are based on a 2,000 calorie diet.
                                    Scary…. right?!
Cut out as many full fat spreads and sauces as you can to shrink calorie intake here and there… Every little bit helps!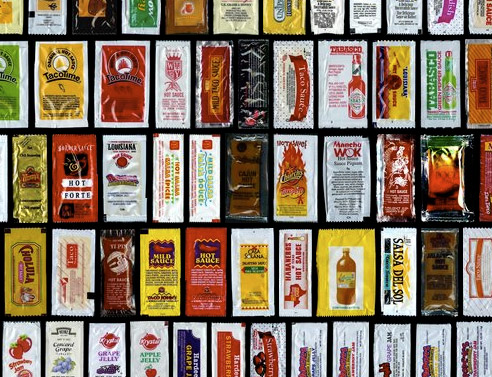 Grains, especially whole grains, are a really important part of a well balanced diet. All types of grains are good sources of complex carbohydrates as well as key vitamins and minerals. Grains are also naturally low in fat. Better yet, they've been linked to a lower risk of heart disease, diabetes, certain cancers and other health problems.

So why choose Wheat/whole grain, versus white?..There are two major differences: how they're processed and how healthy they are. The flour
for both is made from wheat berries, which have three nutrient-rich parts: the bran (the outer layers), the germ (the innermost area) and the endosperm (the starchy part in between). Whole wheat is processed to include all three nutritious parts, but white flour uses only the endosperm. When put head-to-head with whole wheat bread, white is a nutritional lightweight. Whole wheat is much higher in fiber, vitamins B6 and E, magnesium, zinc, folic acid and chromium.
Always… I repeat, ALWAYS log what is going into your mouth! Even snacks! They can sneak calories easily… These days we even have Iphone apps that can scan barcodes and count calories for us - There you go, no excuses! (I use My Fitness Pal, and Every Day Health Calorie Counter
WHATEVER YOU DO…. DO NOT DEPRIVE YOURSELF!! I, of all people was a TERRIBLE binge eater (and still am at heart)… I would binge on my favorite fatty foods then starve myself because I felt bad… DO NOT DO THAT! Everything is OK in moderation.. some things more serious moderation than others… If you MUST have the Mozzarella stix at Applebee's happy hour with your ladies - Go ahead! opt to share them, order a light salad with a clear, reduced fat dressing as your entree and who knows, maybe you will feel up for an after dinner walk once all is said and done! It is important to love and support yourself. Let us not forget that we are human and if we do not reward ourselves with a treat from time to time, the likelihood of binge eating is so much higher.
Support!! There is NOTHING harder than trying to be healthy with no support from your loved ones… Or if you happen to have room mates/family members with terrible eating habits! Surround yourself with people who value fitness and healthy nutritious foods. We can always learn from one another and if you are excited about something, you are more likely to stick with it. You will find that often times once people notice you making a change, they will become interested as well! Since I have redirected my foodie path, my boyfriend by default (we live together) has become a naturally healthier eater! And my daughter too! Environment is a huge part of a healthy lifestyle!
STAY ORGANIZED!!! Keep healthy snacks at arms reach so they are the first thing you see (and grab) when you open the fridge… I am a mindless snacker and that is what can sneakily be a healthy diet killer!!! if you must snack, keep it light, fruits, raw veggies, whole grain crackers and hummus… OH and Be sure to measure out the servine size and PUT THE REST AWAY! … If you eat out of the bag/container you will easily over eat and defeat the purpose of a serving size all together… Make sense?